New Schoenstein Website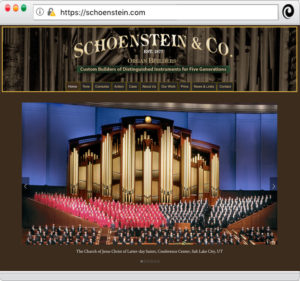 Benicia, CA – Schoenstein & Co. has announced a new website, easy to navigate and fully responsive for mobile devices and tablets.  Many new features have been added including an opus list with immediate access to any stop list.  The instruments are sorted by state, name and denomination of client, number of voices (stops) and number of ranks.  The list is also searchable: to find all instruments in a particular city, for example.  The stop lists are in a flip book format that also provides immediate access to all stop lists in date order.
The completion of this project has been delayed due to the foot dragging of company president, Jack Bethards, who detests computers, won't have one in his office, and hoped this "on-line craze" would just fade away.  However, he was given an Amazon card, located a biography of violist-composer Eric Coates, received it from London in a week and is starting to change his mind.